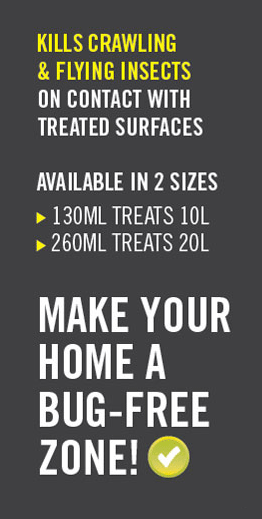 Welcome to the home of Bug Juice insect control paint additive. Bug Juice is a fantastic new product to New Zealand designed to kill insects that land or crawl over painted or stained surfaces.


Simply mix Bug Juice into the paint or stain at the recommended level and paint the surface as you would normally. When the painted surface is dry Bug Juice will continue to kill insects for up to 4 years! Thats 8 times longer than
any

other insect treatment available today and makes Bug Juice probably the most cost effective insect treatment available!


Bug Juice
Is available in two sizes,

130ml

will treat 10 litres of coating and

260ml

for trade customers will treat

20 litres

of coating! That's a lot of coverage!


The 130ml bottle is $35.00 including delivery and GST and the 260ml bottle is $60.00 including delivery and GST.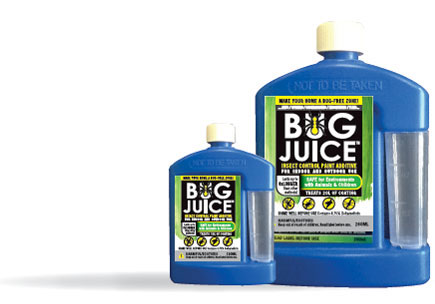 Bug Juice
can be used on any exterior and most interior surfaces but it is not recommended for use on surfaces that come into direct contact with food.


Bug Juice
will not affect the colour or drying time of the coating it is mixed with and it is completely odourless!When the treated surface is dryBug Juice is completely safe and will not harm Humans, pets or birds.


Bug Juice
will kill Cockroaches, Ants, Spiders, Mosquitos, Flies plus many other crawling and flying insects!


Bug juice
is

not

an instant knockdown product but is a long term insect control method designed to kill insects after they have made contact with the treated surface. Most Insects tend to spend long periods in one place and this is where Bug Juice works best.


Use

Bug Juice

only

in the top coat. Bug Juice comes with a handy measuring vessel to get the mixture right every time so if you are painting then why not treat your house for insects at the same time!


Bug Juice
is recommended for use in Resene Paints and is available nationwide at your local Resene Colour Store or buy direct from us via the

"Buy Bug Juice"

tab where you will also find a complete list of Resene Colour Store branches.